Before I get to talking about my Thriftin' Fever finds, here's a quick word from Katlyn over at The Dreamy Meadow!
You all can thank my husband for finding us this theme song! (Excuse the language in it).
This song has been ALL over the radio over here in Washington and I just couldn't believe it.
So of course I had to share it with you all!
As you already know this was the first month that Thriftin' Fever has been going on and I am both excited to see what everyone has come up with as well as a little nervous about not having many people linking up. Crossing my fingers!
This month the "Ugly Sweater" was chosen for the poll and the price limit was $7.00.
I also put together a fun little challenge for you guys to do since I know a lot of people weren't in need of an ugly sweater. This was re-vamping a denim piece.
Super fun, right? I was on a mission this past month to find the perfect sweater and I was armed with several ideas of how to turn the ugly duckling sweater into something super fun and adorable that I would actually use/wear.
So, what did I come up with? Nada. I couldn't find a single 'ugly sweater'. In fact, I couldn't even find a cute sweater that would work for the projects I had in mind.
As such, I'm left with using a super old purchase from the Goodwill back in SoCal, that I re-donated before we moved.
I bought this totally rad sweater for an 80s themed party and rocked it with some pink polyester pants (also purchased at Goodwill), blue heels, and some huge neon hoops. Oh, and a scrunchie. Can't forget the scrunchie!
This gem only cost me $2.00, and it really made the outfit! ;)
I also decided to participate in the denim challenge, since I kind of failed at the ugly sweater challenge!
This meant actually going down the jean aisles in my local store for the first time. Yep, there's 2 aisles of just women's full length jeans. Crazy amounts of jeans. I'd never browsed before because I have about 50 pairs of jeans and don't need to add to the collection.
I ended up buying a pair of faded wide leg jeans for $4.00, nowhere near my size, to make this!
Omg. I love this clutch! I haven't gotten to it yet as I had some other sewing projects that I needed to get done first. But, it's next on my list! Check back later to see how I did :)
So, I think I totally bombed this month's challenges - but I had a GREAT time trying to accomplish them. I normally just swing into thrift stores while I'm out running other errands, with no plans to buy specific items. This challenge really made me look around more and spend a little more time than I normally do. I'm really looking forward to next month!!
I had so much fun hunting and creating for this feature! I hope you did as well! :)
I also wanted to ask you all if there was anything that you feel needed to be changed or tweeked?
Such as... Better posts, no price limit, no challenge, "other" option on poll?
Please feel free to give any advice or opinions that you may have, but BE NICE!
Now it's time for you beauties to link up your finds and creations!
Rules:
1. Follow your host and co-hosts
Katlyn @ The Dreamy Meadow
Sara @ SaraIvy.Org
Amanda @ Watch Out, Martha!
2. Grab a button and place it in your sidebar so everyone can see!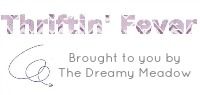 3. Link up your post (not just homepage) via InLinkz below.
Remember to include where you got the item, what brand it is, and how much you spent!
4. Tweet away! Let's try to get even more people involved!
Tweet
5. Vote for January's item! (Located here in the left sidebar)